Tab Content:
A leading cause of cancer is avoidable.
So let's get Nevadans to avoid it.
Tobacco use is a leading cause of cancer and of death from cancer.
Let that sink in. The leading cause of cancer is almost entirely avoidable. People who use tobacco products or who are regularly subjected to secondhand smoke have an increased risk of cancer due to the chemicals in those products that damage DNA.
Tobacco use causes many types of cancer, including cancer of the lung, larynx (voice box), mouth, esophagus, throat, bladder, kidney, liver, stomach, pancreas, colon and rectum, and cervix, as well as acute myeloid leukemia. Those who use smokeless tobacco (snuff or chewing tobacco) have increased risks of cancers of the mouth, esophagus, and pancreas.
There is no safe level of tobacco use.
To learn more about tobacco prevention efforts in Nevada, visit the Nevada Tobacco Prevention Coalition at tobaccofreenv.org.
 
Tab Content:
Ready to quit? These resources can help.
Smoking cessation resources
The benefits of quitting smoking are immediate and long lasting whereas the risks of smoking can be sickness and death.
| After | Health Benefit |
| --- | --- |
| 72 hours | Breathing becomes easier. Bronchial tubes begin to relax and energy levels increase. |
| 1 month | Skin appearance improves, owing to improved skin perfusion. |
| 3-9 months | Cough, wheezing, and breathing problems improve and lung function increases by up to 10%. |
| 1 year | Risk of a heart attack falls to about half that of a smoker. |
| 10 years | Risk of lung cancer falls to about half that of a smoker. |
| 15 years | Risk of heart attack falls to the same level that it would be for someone who has never smoked. |
When you are ready to quit smoking, there are resources available to support you.
Nevada Tobacco Quitline
The Nevada Tobacco Quitline provides free and confidential online and telephone-based counseling, in either English or Spanish, for Nevada residents who want to address their tobacco use. This treatment service is delivered by counselors who are trained to treat nicotine addiction for all forms of tobacco use. Services are offered for tobacco users 13 years or older, with specially tailored counseling for youth, American Indians, and pregnant or post-partum women.
Call 1-800-QUIT-NOW (800-784-8669) or enroll online.
Hours of operation: 7 days a week; 4 a.m. to 10 p.m. Pacific Time
Tab Content: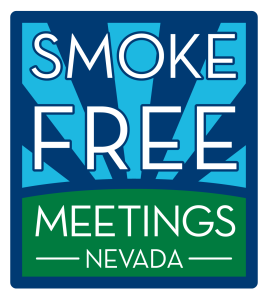 We all deserve to work, meet, and play smoke free.
Commit to a smoke free meetings and events policy for your organization. Click here to learn more and let us know you've adopted a policy.
Demand for smoke-free meeting spaces continues to grow throughout the state. To meet demand, we've created a Smoke-Free Meetings Directory to serve as a one-stop shop for all information needed to book your next meeting or conference in a smoke-free location.
Numerous businesses and organizations have also signed on to the Smoke Free Meetings Policy Pledge, making the commitment to only host or sponsor events in smoke free locations. See who's adopted a policy.
Submit Smoke Free Meeting Location
Tab Content:
We celebrate the many smoke-free indoor locations in Nevada, but there still are many outdoor public settings intended for use by children, such as parks and recreation areas, that permit smoking. We're working in Washoe County to educate and inform about the risks associated with secondhand smoke, as well as the litter created by outdoor tobacco use, and to encourage adoption of smoke-free policies in outdoor settings frequented by families and children.
Exposure to secondhand smoke is most harmful to infants and young children as they are still developing. Exposure to secondhand smoke in children is known to increase the risk of health dangers including SIDS (sudden infant death syndrome), ear infections, acute respiratory symptoms and infections, and asthma.